What is One day to rescue a child?
One Day to Rescue a Child is LFTI's ongoing church campaign with the power to provide housing, education, adoptive families and more to trafficked children. You can easily inspire your church members to give one day of their wages to LFTI (in addition to regular giving) with this adjustable, plug-and-play campaign. By participating in the One Day Campaign, your church will learn more about human trafficking and rescue innocent children from slavery – together.
start now – it's easy!

Select Free Resources
you'll need below – including a leader's guide, posters, stickers and bulletin inserts. You can download those below or LFTI will mail them to you to help support your One Day Campaign.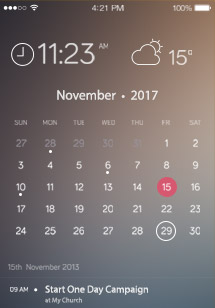 start your one day campaign
on the date of your choice.
Your church can give online or by mail:
Life for the Innocent Gift Processing
P.O. Box 542 Wheaton, IL 60187
Thank you for partnering with Life for the Innocent to make freedom possible one child at a time, one day's wages at a time. If you would like more information, please contact info@lifefortheinnocent.org.