As I write you today, I am 8 months pregnant and will become a mom very soon. You may have children in your life as well. These days, my heart breaks even more when I learn about precious children like Kalira rescued by LFTI.
Kalira's mother died when she was 4. Her father left her to pursue work in a market and said he wasn't coming home, ever. Kalira was picked up by a man who took her far from her village. He sold her to a woman as a housemaid.
Kalira would be enslaved as a housemaid for the next three years.
The woman was cruel, but the only mother-like figure in Kalira's life. Kalira asked her, "Can I call you mom?" Due to the woman's cultural status, she was appalled by Kalira's request. In response, she beat Kalira and threw her out of the house. Kalira was going to be sold again when the LFTI rescue network intervened. She was safely brought to an LFTI transition home.
After a few months in the home, Kalira met her adoptive parents. The staff explained that her new family would care for her like she always wanted.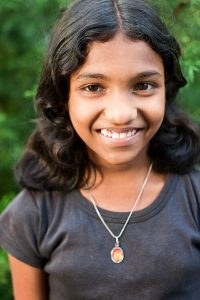 Kalira, full of doubt from the past, put her hand on her hip and asked, "Forever?" The staff replied, "Yes. Forever and always." She walked up to her new mother, looked into her eyes and asked, "Can I call you mom?"
This time, the answer was very different. "Yes," the woman said. Her husband was already in tears. From that moment, they visited their daughter every day, volunteering in the kitchen and cooking together.
On her last day at the home, Kalira was no longer doubtful, but felt secure and excited to go home for good with "Mom and Dad".
You and the rest of the LFTI family made Kalira's story possible through prayers and financial support.  
Will you join me in the family-wide effort to rescue, restore and renew children still trapped in slavery in South Asia? With the LFTI Family Christmas Challenge, your year-end gift will be matched up to $60,000. This is the best time to GO BIG for LFTI kids!
– CT, an LFTI supporter